Houses for Rent in Uganda, Kampala Properties for Sale 
In need of Renting Houses in Kampala, CLICK HERE !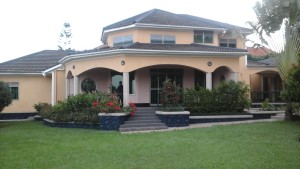 Renting houses in Kampala: Find the best House for rent in Kampala Uganda. There are commercial properties, furnished apartments and holiday homes in city's posh residential suburbs at affordable prices.
Besides Rental Properties in Kampala like Houses, Warehouses, Apartments and Flats, the city has got numerous property for Sale for high, medium and low market buyers. In short, the following Kampala Properties are what Ecoland Property Services can avail to you for Renting or Buying:-
Houses for Rent in Kampala
Land for Sale
Properties for Rent in Kampala
Properties for Sale 
Furnished and unfurnished apartments 
Rental homes 
Office space for rent 
Commercial Space for Rent 
Tourism services as offered by our partner, AAB Tours and Travel 
If you are planning to visit or invest in Uganda, you need to secure an housing facility first either houses for rent plus apartments (furnished and unfurnished). Or else a house for Sale for residential or commercial purpose.
At Ecoland Property Services, we can offer you several houses to let in or near Kampala plus accommodation or housing options for short or long-term stay. We have got rental houses or rental posh apartments in places like Kololo, Nakasero, Ntinda, Naguru, Bugolobi, and Muyenga. Other areas are Luzira, Mbuya, Mutungo, Kisasi, Kiwatule, Nalya, Mawanda Road, Kamwokya, Munyonyo, Mutungo, Bunga, Makindye or Buziga among others. These are the first class residential areas for luxury and mid-range tenants of Kampala.
Kampala, the capital city of Uganda is found in the central region of the country. It is the business and administrative center of Uganda, with several locals, foreign businessmen, diplomats and expatriates residing in its main suburbs. the city is therefore a great place to find a rental property or real estate for purchase.
Kampala is not far from Lake Victoria, the Largest Lake in Africa with numerous beaches, hotels and recreational spots. With quite many major posh suburbs to choose from, renters or home buyers have plentiful prospects to search for diverse housing rental facilities and investment opportunities in Uganda.
In these Kampala areas, we have got bungalows, storied houses and apartments for small, medium and larger families. In most cases, the Houses for rent in Kampala that we have start from USD 800 – 7000 or slightly more, depending on the location, size, structural appearance and security plus numerous factors. Whereas descent Kampala Apartments range from USD 500 – 3500 in categories of furnished and non-furnished one.
With years of specialisation in Uganda property sales and housing rentals in Kampala, contact us and avail your likes and preferences and we shall unveil to you a property of your dream.
To view rental homes in Kampala, contact us and we show you a variety of houses in mid-range and luxury categories in the descent suburbs of Kampala.